BEDROOM FIREPLACES: HOW TO ENJOY THE PROS AND AVOID THE CONS
---
---
Nothing saysromantic bedroom design more than relaxing in bed in the warming glow of a real fire. The problem is that it's just not practical – or so you might think.
The range of fireplace options available has never been better; it's just a case of finding the right one for your home. Here's how.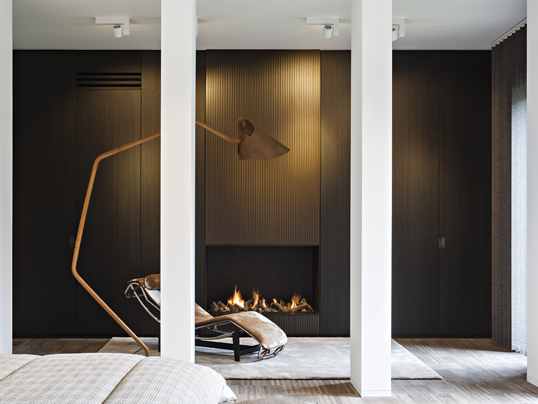 The cosy factor
Before we get into thedesign details, or even the practicalities of installation, we need to talk about what we all really want from a bedroom fireplace: cosiness. And most of us would agree that comes from a combination of the classic crackling sound, the warmth and the colour – all of which are influenced by our choice of fireplace fuel.
Wood-burning fires give the most potential for heat, crackles and bright flames, as well as that typical fireside scent. Ethanol fireplaces offer a similar look, with real flames, but without the same heat, smell or sound. Electric fireplaces provide a simulated flame, but with the potential for more heat and a more consistent temperature, which may be more comfortable for sleeping.
Bedroom fireplace temperature
You can calculate roughlyhow much heat your room will need by multiplying the volume in metres cubed by either 0.06 if it's poorly insulated, or 0.035 if it's well insulated. If you're installing a burner, the vendor will be able to tell you the heat output and how to control it.
If your home already has comfortable temperature control, you might want to consider a fireplace that's merely ornamental. Bio-ethanol firesdon't give off much heat, so a small one is unlikely to overheat a room, whilemany electric fireplaces can be set not to emit heat all.
Exhaust issues
Modern homes frequently have the chimney blocked off, or even no chimney at all. But don't let that scupper your bedroom fireplace dream: there are plenty of fireplaces designed to ensure any fumes are safely and effectively vented by other means.
If you like the look and feel of a traditional wood fire, you could install a direct-vented, enclosed fireplace – like a wood-burning stove – which is self-contained and vents fumes via a specially installed flue. If you'd prefer an easier-to-install option, consider an ethanol-burning or electric fire: both are clean-burning and odourless, and don't require a flue, making them a simpler addition.
Safety solutions
You'll need to prepare for two potential risks arising from your new bedroom fireplace: carbon monoxide and escaping embers. The first is solved by installing a carbon monoxide detector. All wood or coal fires will leak at least a little carbon monoxide, so placing the detector at least 15 feet (roughly 4.5m) from the fireplace will avoid false alarms, and installingat knee levelgives the most accurate readings.
You should be sure to install both smoke and heat alarms, in case an ember escapes and a fire starts. You may also want to keep a small fire extinguisher in the room. Dry powder extinguishers are suitable for all fires (except fat fires), and are therefore the most versatile solution.
As this shows, realising your dream of a romantic bedroom fireplace could be easier than you think. Choose a style that's appropriate for your space and keep safety firmly in mind, and you could spend this winter heating up the bedroom with a warm firelit glow.