DIY FALL DÉCOR, FRESH FROM THE GARDEN
---
---
Autumn is when we retreat indoors, craving glowing log fires and mulled cider. But outside, there's an abundance of colour and texture, a spectacle for the senses as the bounties of summer fall away. You can make the most of the seasonal splendour by weaving these autumnal accents into your home'sinterior design with some DIY fall décor. Here are some ideas to get you started.
DIY fall décor leaf bowl
A walk in the fallen leaves is one of autumn's great pleasures. While you're enjoying this seasonal treat, look out for shapely leaves, because you can preserve them as an elegant leaf bowl.
The method, put together by Consumer Crafts, is surprisingly easy. First, cover a glass or plastic bowl with cling film. Next, coat the leaves with PVA glue or Mod Podge, then layer them on top of the cling film. Press them flat using another layer of cling film. Leave the bowl to dry for four hours, then remove the top layer of cling film. When the leaves have dried fully, carefully remove them from the bowl. For a more even surface, add an extra coat of PVA glue or a craft glaze.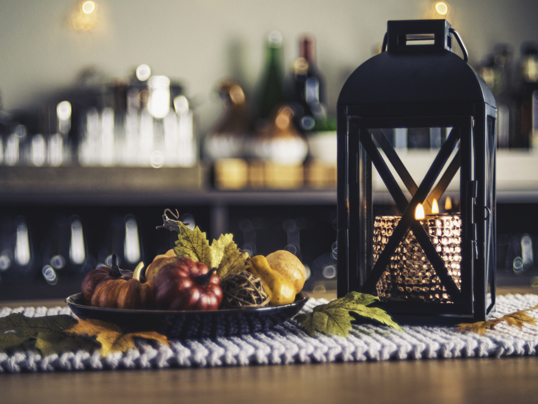 Autumnal leaf wreath
Plentiful and easily available, foliage makes for an ideal crafting material. Gather some more up for this tasteful leaf wreath. Perhaps the simplest outdoor fall décor idea, leaf wreaths require roughly25 leaves per 30cm of garland. Fix leaves together in pairs with floral wire, then tie twine on each pair until complete.
Moss gardens
If you have a perfectly manicured lawn, you may shudder at the thought of cultivating moss. In Japan, however,moss gardens are valued for their tranquility, and will add character to yourhome décor on a coffee table or used as a centrepiece.
Martha Stewart recommends a wooden bowl for the arrangement, but textured stone is an attractive alternative. Collect a range of mosses to create a landscaping effect, adding accents such as bark, branches and young plants to add variety to the scene.
Harvest centrepieces
If you prefer a more colourful centrepiece, fear not. Autumn is harvest season, and there's plenty of outdoor fall décor inspiration to be found in the many vibrant foods and berries.
Pumpkinsmake an excellent base on which to layer other pieces. You can use glass cloches to display smaller gourds with found items such as pine cones and sculptural twigs. Alternatively, hollow out gourds and use them as a vase for wheat sheaves, autumnal twigs and bright berries or foliage.
Tree branch coasters
Autumn is the ideal time for a spot of tree-trimming. If you'd like to make practical use of your felled branches, tree branch coasters are a simple solution.
For this item of DIY fall décor, you'll need branches that arearound 7.5cm in diameter. Next, saw the branch into discs 2cm thick and sand down. You can decorate with ink stamps if you so choose, and varnish to protect against damp and stains. Now all you need is a mug of coffee to put on top of it.
Take a look around the next time you walk through your garden or neighbourhood this autumn, and you'll find all the ready-made crafting materials you need for DIY fall décor.