CANVAS PICTURES AND MORE WAYS TO PRESENT YOUR PHOTOS PERFECTLY
---
---
No matter how striking the artwork you buy to decorate your walls, it will never make you feel as good as the pictures of your most treasured memories and the snaps of your beloved friends and family.
So why not turn your photographs into home works of art in their own right? By framing them in the right way, as canvas pictures or with other display techniques, it's easy to make them look as good as any professional photography.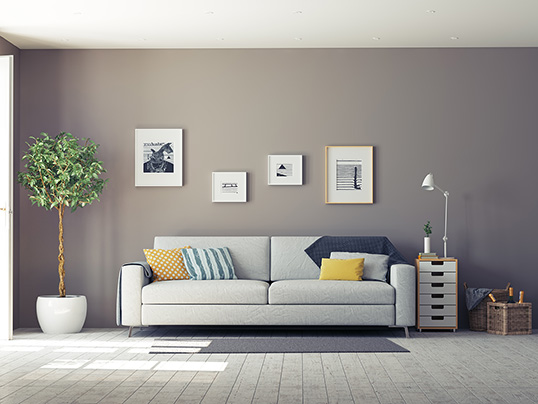 Choosing your photos
Firstly, you should be sure to pick images you know make you happy. No matter how beautiful the photo you took of a landscape, if it reminds you of a stressful holiday or has otherwise negative connotations, it has no place on your wall.
When choosing photos for each room, you can look for those that either complement or contrast with your existing interior design to make the images pop.
Grouping your pictures
There's a trend right now to group your pictures together on a single wall – often referred to as 'gallery style'. This is ideal for creating a collection of images that have an overall positive or nostalgic effect, with lots to discover and rediscover every time you look.
You'll see this kind of design idea in a lot of contemporary bars and restaurants. The overall effect is gently reminiscent of a photo wall in a college dorm room, but with plenty of careful curation rather than chaos.
Twists on traditional photo hanging styles
You can also try creating a 'washing line' effect with your photos using fishing wire or high-quality thread and pegs to hang them up along a wall. This inventive way of displaying your photos adds some extra informality and ensures they're noticed rather than blending into the background.
Your most high-quality and treasured photos can be displayed in bespoke wallpaper or a printed mural to decorate a feature wall of your home. You'll need to order custom prints, and you'll also need to make sure any image you use is one you're happy to see as a large-scale print in your room every single day.
Canvas pictures
If you have high-resolution digital photos, you can choose to have them printed on canvas. This gives them a quality appearance and, if they're particularly good photos, they might even be mistaken for professional work. Thanks to the textured feel of most canvases, you can safely hang these near light sources and not worry about reflection interfering with your view. However, direct sunlight isn't a good idea, as the sun can cause printed images to fade over time.
Any good printing service will give you a choice of sizes, so you can make sure your pictures are perfectly printed for the space they're in. Large canvas pictures are ideal for a feature wall.
Mixing in artwork
You can also create a striking display by mixing your photos with your artwork collection; done well, this can set both styles off to eye-catching effect. Getting the balance right is key here, but there are a number of techniques you can use to achieve a cohesive look, including grouping images that have a similar theme or colour palette and using matching frames to unify the pieces.
There are a multitude of ways you can display photos around your home; which method you choose is entirely a matter of personal choice and style.